http://www.pond5.com/stock-footage/10858940/amnon-raz-krakotzkin-professor-of-jewish-studies-at-ben-gurion-university.html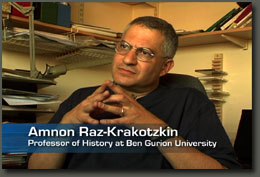 Prof. Amnon Raz-Krakotzkin
Email: nono@bgu.ac.il
BGU Amnon Raz-Krakotzkin in a one minute video segment translated from Hebrew:
To come and identify with the ongoing struggle against suppression, against oppression, against expropriations and for equality and for justice. Land Day was just one day of the horrible Israeli oppression, but oppression itself is not of one day, it is a prolonged suppression.
אמנון רז-קרקוצקין,' יום האדמה 2012 דיר חנא:
"לבוא להזדהות עם המאבק המתמשך נגד הדיכוי, נגד הנישול, נגד ההפקעות ובעד השיוויון ובעד הצדק, יום האדמה היה יום אחד מהימים האיומים של הדיכוי הישראלי, אבל הדיכוי עצמו הוא לא של יום אחד, הוא דיכוי מתמשך."

Description
Amnon Raz Krakotzkin, Professor of Jewish Studies at Ben Gurion University, is one of the most prominent advocates of binationalism as a solution to the Israeli Palestinian conflict. March 30 is an annual day of commemoration for Palestinians of the events of that date in 1976. In response to the Israeli government's announcement of a plan to expropriate thousands of dunams of land for -security and settlement purposes- a general strike and marches were organized in Arab towns from the Galilee to the Negev.
Date Created:
2012 March 30