TAU Prof. Yehouda Shenhav
E-mail: shenhav@post.tau.ac.il
16.09.13
Editorial Note:
Professor Yehouda Shenhav was hired to teach and research sociology of organizations at Tel Aviv University. But he has made a career on writing polemical pieces on the Palestinian-Israeli conflict. He is best known for the fancy idea that the Mizrahim are actually Arab Jews who are ready to embrace their Palestinian "brothers." Since the Mizrahim showed no such inclination, he moved on to advocate a one-state solution where the 1948 refugees would have the right to resettle within the Green Line in specially constructed villages. Those who lived in cities would have to appeal to a special court to regain their previous property.
As the following "conversation" between Shenhav and Peter Beinart - a Jewish journalist who made his name by writing a book about the "crisis of Zionism" - at Columbia University indicates, neither pay any attention to Islamism. By ignoring the huge elephant in the room their upcoming conversation on "The Israeli-Palestinian Quagmire: Is There A Way Out?" sounds exceptionally shallow.
This should come as no surprise given that the organizer of the event is Yinon Cohen, a former colleague of Shenhav at TAU. Hired to a specially created chair of Jewish studies to balance the pro-Palestinian orientation of many of Columbia University's Middle East studies faculty, Cohen has faithfully towed the line of the Middle East Studies Association (MESA) according to which Islamism is the new bogeyman created by "right-wing supporters of Israel."
Following the 9/11 attack, Martin Kramer, then a fellow at the Washington Institute for Near East Studies, wrote that, by concentrating most of their effort at criticizing Israel and avoiding the "politically incorrect" subject of Islamism, MESA-affiliated academics had provided an unrealistic view of the Middle East. It seems that nothing has been learned since then.
The Israeli-Palestinian Quagmire: Is There A Way Out?
A Conversation With PETER BEINART & YEHOUDA SHENHAV at Columbia University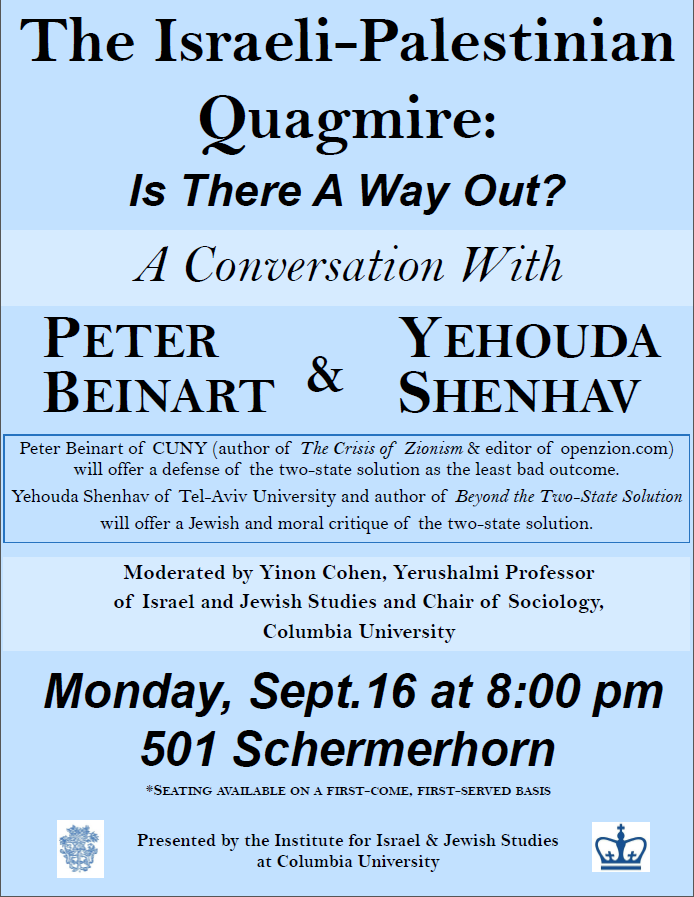 Upcoming
The Israeli-Palestinian Quagmire: Is There A Way Out? A Conversation with Peter Beinart & Yehouda Shenhav
September 16, 2013
Monday
8:00pm
Location: 501 Schermerhorn


Please join us for a conversation with Peter Beinart & Yehouda Shenhav: Peter Beinart of CUNY (author of The Crisis of Zionism & editor of openzion.com) will offer a defense of the two-state solution as the least bad outcome. Yehouda Shenhav of Tel-Aviv University (author of Beyond the Two-State Solution) will offer a Jewish and moral critique of the two-state solution. The event will be moderated by Yinon Cohen, Yerushalmi Professor of Israel and Jewish Studies and Chair of Sociology, Columbia University.
Please click here for flyer and a campus map with Schermerhorn highlighted can be found HERE. For more information, please contact Susan Allen at 212.854.2581.