28.12.15
Editorial Note
According to the media, the letter to the AAA contended that the proposal to boycott Israel presents a distorted reality of Israel, since "Israeli universities are open to all students, both Jews and Arabs, and there is full equality among all students and researchers. The research and academic discourse in Israel operate according to the principles of academic freedom in an unbiased manner, free of political or ideological tendencies... It is both ironic and absurd that specifically those supporting such boycotts are using politics in an attempt to incite and introduce hatred and racism into the Israeli academia." The letter also explained, "We believe you will agree with us that proposals of this kind have no place in academia. The success of academic research worldwide is based on interinstitutional and international cooperation without limitations or restrictions, and free of political or ideological appeals, partitions and barriers." The AAA will make the decision after its members vote on the boycott call during their annual convention in April 2016.
But the extent of the Palestinian movement for boycott is global in scope, thus requiring a more energetic action that the university heads have offered so far. For instance, the BDS movement has recently scored some success in the University of Barcelona (Universitat Autònoma de Barcelona, UAB).
A few days before that, on December 15, 2015 the Senate posted an acknowledgement on the university website, that
it will convene and discuss the students BDS motion
. However, the convention took place and only Palestinian sources reported that the UAB announced an official boycott of Israeli universities.
The news appeared on the
Ezzedeen Al-Qassam
website,
Middle East Monitor
and among others by
Transcend, Professor Johan Galtung's outfit
, a pro-Palestinian group "promoting peace by peaceful means throughout the world." It reported the case (see below) exactly as it appeared on the Palestinian media with the wording "University of Barcelona Announces Official Boycott of Israeli Occupation." Not surprisingly, Transcend included explicit calls for the boycott of Israel and requested readers to "Join the BDS-Boycott, Divestment, Sanctions campaign," as well as "Don't buy products whose barcode starts with 729, which indicates that it is produced in Israel." Transcend ended their news report by stating "729: Boycott for Justice!" Transcend's anti-Israel bias is known, IAM reported on
Galtung and his anti-Semitic remarks
before.
So far no official announcement has been coming from University of Barcelona concerning a boycott. Arguably, the case offers the Presidents of the Israeli Universities an opportunity to protest the proposed BDS resolution. IAM will report on this issue.
15/12/2015
El Claustro se iniciará con la Aprobación del acta de la última sesión y continuará con las Líneas generales de la política de la Universidad (Informe del rector de acuerdo con el artículo 58.g. de los Estatutos de la UAB). Posteriormente se tratarán las propuestas presentadas por claustrales de la UAB para su debate y votación: Referendum de los estudiantes sobre el 3+2, Apoyo al colectivo de Boicot, Desinversiones y Sanciones a Israel, Retransmisión del acto de inauguración de curso y Modificación de las normas electorales de la UAB. Finalmente se cerrará el Claustro con un turno abierto de palabras.
El Claustro es el órgano máximo de representación de la comunidad universitaria y debate las líneas generales de actuación de la Universidad, controla la gestión de los cargos e impulsa la actividad normativa de otros órganos de gobierno. Se renueva cada 4 años, a excepción del sector de los estudiantes, que lo hace cada 2, y se reúne al menos dos veces al año. Además del funcionamiento por sesiones plenarias, el Claustro puede crear comisiones específicas.
15/12/2015
The Senate begins with the Approval of the minutes of the last session and continues along the lines of university policy (Report of the rector in accordance with Article 58.g. Statutes UAB). Referendum by students on the 3 + 2, support group Boycott, Divestment and Sanctions against Israel, relay to opening ceremony of the course and Changing: Later the proposals submitted by UAB cloistered for debate and vote be discussed on UAB electoral rules. Finally, the Senate will end with an open session of shifting speakers.
The Assembly is the highest representative body of the university community, discuss the general guidelines of the University, controls the management of the charges and drives the regulatory activity of other organs of government. It is renewed every four years, except for the students, which makes every 2 industry, and meets at least twice a year. In addition to operating through plenary sessions, the Senate may establish special commissions.
=============================================
University of Barcelona Announces Official Boycott of Israeli Occupation
The Palestinian Information Center – TRANSCEND Media Service
20 Dec 2015 – The Central University of Barcelona (UAB) announced its decision to boycott Israeli universities and institutions that have ties, whether direct or indirect, with the occupation of Palestine.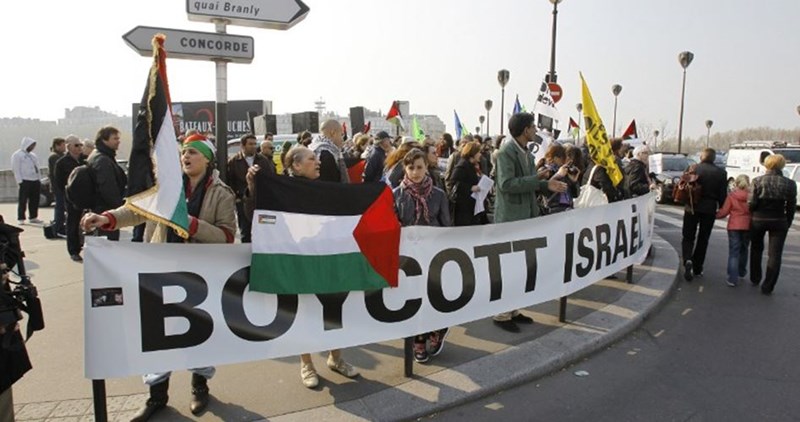 The move makes part of the international initiative "Places without Racism" launched by hundreds of official institutions and universities around the world.
In Spain, the global BDS campaign for the boycott of Israel kicked off in 2007 to promote all forms of boycott against the Israeli occupation among the world's community organizations, unions, as well as political, academic and cultural institutions.
A workshop on the different ways to promote the boycott of Israel campaign was held in Spain's northern city of San Sebastian and joined by activists from South America, Africa, and Europe.
Join the BDS-BOYCOTT, DIVESTMENT, SANCTIONS campaign
to protest the Israeli barbaric siege of Gaza, illegal occupation of the Palestine nation's territory, the apartheid wall, its inhuman and degrading treatment of the Palestinian people, and the more than 7,000 Palestinian men, women, elderly and children arbitrarily locked up in Israeli prisons.
DON'T BUY PRODUCTS WHOSE BARCODE STARTS WITH 729
, which indicates that it is produced in Israel.
DO YOUR PART! MAKE A DIFFERENCE!
7 2 9: BOYCOTT FOR JUSTICE!