17.06.2020
Editorial Note
A Haaretz article has focused attention on Israeli radical academic-activists who have left Israel in recent years. Titled "After Losing Hope for Change, Top Left-wing Activists and Scholars Leave Israel Behind." Haaretz postulated that "They founded anti-occupation movements and fought for the soul of Israeli society, but ultimately decided to emigrate. The new exiles tell Haaretz how they were harassed and silenced, until they had almost no choice but to leave."
Over the years, IAM has covered in length the scholars that the article mentioned.
Ilan Pappe, who made a name for himself by besmirching Israel, is the most known among this group. IAM published a 2002 article by Tom Segev, which negated Pappe's contention that he was dismissed. As a professor at the University of Haifa, he published dozens of articles and books describing Israel as a criminal state. He supported Teddy Katz, a MA student at the university who wrote a dissertation falsely accusing the Alexandroni Brigade of a massacre in the village of Tantura in 1948. Members of the Brigade sued Katz, and the university withdrew his thesis. Pappe responded by sending a letter to the American Historical Association asking to censure Haifa University. Yossi Ben-Arzi, the then dean of the humanities faculty, noted that Pappe's appeal would damage the chances for the advancement of members who need recommendations from abroad, as well as affect their chances to publish abroad or receive invitations to conferences and sabbaticals. Ben-Arzi said that this was not a matter of freedom of speech or an attempt to attack Pappe for his anti-Zionist opinions, "This is a matter of non-collegial, unethical and immoral conduct, lies, badmouthing and impudence." Ben-Arzi filed a disciplinary complaint against Pappe, but the internal disciplinary court found no reasons to discuss the accusation "in the form in which it has been submitted" and dismissed the complaint. Pappe has left the University of Haifa upon receiving an invitation to head the European Centre for Palestine Studies at the University of Exeter, U.K.
Dr. Ariella Azoulay and Prof. Adi Ophir both featured in the Haaretz article. Ophir, who headed the Political Lexicon Project at the Minerva Humanities Center at TAU, once declared that Israel operates at the same ontological plane of evil as Nazi Germany. Azoulay, his frequent collaborator, whose title at the Minerva Humanities was Director of Photo-Lexic Research, has manipulated photographic images to prove that the Nakba and the occupation are the Holocaust of the Palestinians. They have both left Israel to teach at Brown University. IAM reported earlier this year that Azoulay was a signatory in a letter to a Brown University committee, pushing for BDS. Other signatories included Prof. Beshara Doumani, a Saudi born Palestinian who headed Brown's Middle East Studies program. Doumani presented an argument for divestment. To recall, Doumani has helped recruiting Azoulay to his Brown University department. Interestingly, Azoulay is not an expert of Middle East Studies but rather, "an expert on visual culture and photography, she is a theorist, film-maker, and curator whose scholarship focuses on the Israeli-Palestinian conflict." But in fact, Azoulay is an Israeli academic supportive of the boycott of Israel. IAM also reported in 2018 on a conference at Brown promoting BDS which was chaired by Doumani and Azoulay also participated, "Do boycotts foreclose or open up socially productive conversations about the ethics of cultural and academic production?" Based on a book, Assuming Boycott: Resistance, Agency, and Cultural Production, questioning, "What are the political possibilities embodied in emerging forms of intersectional solidarity around boycott movements, such as BDS?" It is unthinkable that a prestigious university such as Brown would hire faculty based on their political agenda.
Indeed, Azoulay, now renamed as "Ariella Aïsha Azoulay," has declined to be interviewed for the Haaretz article. Instead, she sent in a written statement: "I don't trust the press and I don't want to be represented by it; I support the boycott and have no interest in being interviewed for a Zionist newspaper." She wrote in her book, "about the fact that I was born to be an 'Israeli' as a form of control by the state over the body and mind of its subjects and citizens, and about my refusal to identify myself in the 'Israeli' category." Azoulay refuses to live in the place where she was born because of those "who were expelled." She does not want to share "that pain with a Zionist audience," that "Israel inflicted and is continuing to inflict, above all on its Palestinian inhabitants, and in a different way on its Jewish citizens."
Another Haaretz interviewee was Neve Gordon, a professor of political science at Ben Gurion University who was one of the early proponents of the notion that Israel is an apartheid state, and later, called for the boycott of Israel. IAM reported that Gordon was invited to Berkeley to write his book Israel's Occupation, in 2004. Using neo-Marxist, critical jargon, Gordon essentially accused the Israeli government of running a Nazi-like state in the West Bank, where Palestinians are monitored continuously, abused, and worse. In the introduction to the book, Gordon clearly stated that, "I began writing the book in 2004 during a sabbatical at the University of California, Berkeley, where Nezar AlSayyad from the Center for Middle Eastern Studies and Eric Stover from the Human Rights Center welcomed me and provided me the necessary resources to write." AlSayyad was the head of the Middle East Center at that time. In 2003 AlSayyad was interviewed by the Saudi Aramco World, a cultural organ of the giant American-Saudi oil corporation.
The Aramco article gave an insight into the extent of Arab oil money invested in Middle Eastern centers in American universities since the 1990s, enabling it to exert influence on what the neo-Marxists call the "production of knowledge." The article detailed the amount of donations given to Berkeley by the Saudis. "Among major donations, Berkeley received two large gifts in the late 1990's from Saudi benefactors, one for technology-transfer studies and one for Arab studies. The Al-Falah ("Success") Program was established with a $2 million endowment from the Alireza family to support a better understanding of Muslims and to promote technology transfer to the Muslim world, particularly Saudi Arabia. The Sultan Endowment for Arab Studies, established by a $5 million gift from the Sultan ibn 'Abd al-'Aziz Charity Foundation, is dedicated to broadening understanding of the Arab and Islamic worlds."
Throughout the years, Saudi Arabia invested billions of dollars in US universities, prompting a New York Times to question "Why Is There So Much Saudi Money in American Universities?" The article discussed the benefits to Saudi Arabia. "The kingdom gets access to the brain trust of America's top academic institutions as it endeavors to modernize its economy… Perhaps as important, the entree to schools like M.I.T. serves to soften the kingdom's image." But, the NYT neglected to consider another benefit, that until not too long ago and for more than two decades, the Saudi gifts enabled Palestinian and their activist-faculty supporters to recruit anti-Israel academics, who in return, would produce anti-Israel scholarships. Similarly, to this day, with other Gulf states such as Qatar, UAE, and Kuwait.
Neve Gordon has moved to the U.K. and he is currently a Professor of International Law and Human Rights - a field he has no expertise in - at the School of Law, Queen Mary University of London.
The Haaretz article hit a raw nerve. Lawrence Davidson, a retired professor of history from West Chester University in West Chester, Pennsylvania, penned an article in Counterpunch "Israel loses its best as chauvinism and religious extremism take over society." Whether Israel has lost its best is questionable.
As for Ilan Pappe, IAM posted in 2004 a review by Prof. Benny Morris of Pappe's book, A History of Modern Palestine: One Land, Two Peoples. Morris wrote, "Unfortunately, much of what Pappe tries to sell his readers is complete fabrication." Morris quoted Pappe as saying, "my [pro-Palestinian] bias is apparent despite the desire of my peers that I stick to facts and the 'truth' when reconstructing past realities. I view any such construction as vain and presumptuous. This book is written by one who admits compassion for the colonized not the colonizer; who sympathizes with the occupied not the occupiers.... Mine is a subjective approach." Pappe's reconstructionist and subjective approach can hardly be beneficial for any scholarship.
As IAM has pointed out, these individuals were primarily activists who used their academic positions to bash Israel. In 2012 the Council of Higher Education threatened to close the Department of Politics and Government at Ben Gurion University where Gordon taught. The Evaluating Committee noted that the research and teaching in the Department were politically motivated, essentially, an extension of their political activism.
Over the years, IAM has reported of dozens of academic Israel-bashers who were recruited by respectable universities in the West. The Palestinians and their supporters understood well that portraying Israel as a Nazi-like state, or an apartheid state, and pushing BDS may be perceived as anti-Semitism. Having Israeli academics supporting, or even leading this effort, was definitely a bonus. As for the Israeli academics, contrary to the Haaretz article, they quickly learned the lesson: bashing Israel was a good career move, rewarded with a plush appointment abroad.
https://www.haaretz.com/israel-news/.premium.MAGAZINE-losing-hope-for-change-top-left-wing-activists-and-scholars-leave-israel-behind-1.8864499
After Losing Hope for Change, Top Left-wing Activists and Scholars Leave Israel Behind
They founded anti-occupation movements and fought for the soul of Israeli society, but ultimately decided to emigrate. The new exiles tell Haaretz how they were harassed and silenced, until they had almost no choice but to leave
Shany Littman
Published on 23.05.2020
Last December, when no one knew that the coronavirus was lurking around the corner, Eitan Bronstein Aparicio, 60, and his partner, Eléonore Merza, 40, left Israel for good. They are both well-known in circles of left-wing activists. He founded the organization Zochrot some 20 years ago, she is a political anthropologist, and they co-authored a book on the Nakba (Arabic for "catastrophe," as Palestinians refer to the events surrounding the founding of Israel). Ideologically, politically and professionally, French-born Merza, the daughter of a Jewish mother and a Circassian father, simply could not bear the situation any longer. Although she was about to be granted permanent residency status in Israel, she found a job in Brussels and the couple moved there, with no plans to return.
In a phone conversation with Haaretz from the coronavirus lockdown in Belgium, Bronstein Aparicio says he still finds it difficult to believe that he left. "I look on it as a type of exile, a departure from the center of Israel," he explains.
Born in Argentina, Bronstein Aparicio emigrated to Israel with his parents when he was 5, growing up in Kibbutz Bahan in central Israel. "My name was changed from Claudio to Eitan – I carry the Zionist revolution with me," he laughs. He describes himself as a "regular Israeli" who did military service, like everyone else. A personal process that he terms the "decolonization of my Zionist identity" led him to establish Zochrot ("Remembering," in Hebrew) in 2001, an NGO that aims to raise awareness of the Nakba and of the Palestinians' right of return among the Jewish public. He has five children: Three of them live in Israel, one in Brazil, and the youngest, a boy who's almost 4, lives with the couple in Brussels.
"There is one point on which I am completely in accord with the move – namely, the need to rescue my son from the nationalist, militaristic education system in Israel. I am glad I got him out of that," he says, adding, "People with a similar political profile to mine have the feeling that we have been defeated and that we will no longer be able to exert a meaningful influence in Israel. In a profound sense, we do not see a horizon of repair, of true peace or a life of quality. A great many people understood this and looked for another place to live. There is something quite insane in Israel, so to look at it from a distance is at least a little saner."
Indeed, many of those who belonged to what's termed the radical left in Israel have left the country in the past decade. Among them were those who devoted their life to activism, founded political movements and headed some of the country's most important left-wing organizations: Not only Zochrot, but B'Tselem, Breaking the Silence, Coalition of Women for Peace, 21st Year, Matzpen and others. The individuals include senior academics – some of whom were forced out of their jobs because of their political beliefs and activities – and also cultural figures or members of the liberal professions, who felt they could no longer express their views in Israel without fear. Many came from the heart of the Zionist left and then moved farther left, or looked on as the state abandoned principles that were important to them, to a point where they felt they no longer had a place in the Israeli public discourse.
Open gallery view
Eitan Bronstein Aparicio and his partner, Eléonore Merza, in the Golan Heights.Credit: Gil Eliahu
They are scattered around the world, trying to build new lives with fewer internal and external conflicts, very often out of concern for their children's future. Most of them shy away from terming themselves political exiles, but make it plain that opposition to the Israeli government is what drove them to leave, or at least not to return. Some declined to be interviewed, from a feeling of unease at leaving and because they do not want their private act to become a model for others. Those who spoke to Haaretz would be the first to admit to enjoying privileges that allowed them to move to a different country, as none of them faces an uncertain economic future or the prospect of engaging in menial labor. Still, a clear note of pain runs through all the conversations.
Among the well-known names no longer living in Israel are the curator and art theoretician Ariella Azoulay and her partner, philosopher Adi Ophir, who was among the founders of the 21st Year, an anti-occupation organization, and refused to serve in the territories; Anat Biletzki, a former chairwoman of B'Tselem – The Israeli Information Center for Human Rights in the Occupied Territories; Dana Golan, former executive director of the anti-occupation group Breaking the Silence; planner and architect Haim Yacobi, who founded Bimkom – Planners for Planning Rights; literary scholar Hannan Hever, a cofounder of the 21st Year who was active in Yesh Gvul; Ilan Pappe, a one-time candidate from the Arab-Jewish party Hadash and a member of the group of "new historians," who left the country over a decade ago and lives in London; and Yonatan Shapira, a former pilot in the Israeli air force who initiated the 2003 letter of the pilots who refused to participate in attacks in the occupied territories, and took part in protest flotillas to the Gaza Strip.
Burying the Nakba: How Israel Systematically Hides Evidence of 1948 Expulsion of Arabs
Operation 'Addictive Candy': How Israel Silenced a Spy Privy to One of Its Darkest Intelligence Debacles
Others include political scientist Neve Gordon, who was director of Physicians for Human Rights and was active in the Ta'ayush Arab Jewish Partnership, a nonviolent, anti-occupation and civil equality movement ; Yael Lerer, who helped found Balad, the Arab-nationalist political party, and was founder of (the now-defunct) Andalus Publishing, which translated Arabic literature into Hebrew; Gila Svirsky, a founder of Coalition of Women for Peace; Jonathan Ben-Artzi, a nephew of Sara Netanyahu, who was jailed for a total of nearly two years for refusing to serve in the Israeli army; Haim Bereshit, a BDS activist, who headed the Media and Cinema School in Sapir College in Sderot and established the city's cinematheque; Marcelo Svirsky, a founder of the Kol Aher BaGalil Arab-Jewish coexistence group and cofounder of the Jewish-Arab school in Galilee; and Ilana Bronstein, Niv Gal, Muhammad Jabali, Saar Sakali and Rozeen Bisharat, who sought to create a joint Palestinian-Jewish leisure and culture venue in the Anna Loulou Bar in Jaffa (which closed in January 2019).
'I remember vividly the period of the Oslo Accords, the euphoria. There was a feeling that maybe there would be peace, but that feeling hasn't existed for a long time. It's a state of constant despair that keeps growing.'
Eitan Bronstein Aparicio
The new "leavers" join those who left for political reasons many years ago, among them: Yigal Arens, a Matzpen activist and son of the late Moshe Arens, a longtime defense minister; Matzpen activists Moshe Machover, Akiva Orr and Shimon Tzabar, who left in the 1960s; as well as the filmmakers Eyal Sivan, Simone Bitton and Udi Aloni, who left in the 1980s and '90s.
The word that recurs time and again in when one speaks with these individuals is "despair." Percolating despair, continuing for years.
"I remember vividly the period of the Oslo Accords, the euphoria – which I shared," Bronstein Aparicio says. "I remember years when there was a feeling that maybe [the conflict] would be resolved and maybe there would be peace, but that feeling hasn't existed for a long time. It's a state of constant despair that keeps growing."
Thus, after long years of activism, all the interviewees testified that they had lost hope for political change in Israel. Many of them are convinced that if change does occur, it will not come from within Israel. "I think it could come mainly from outside," Bronstein Aparicio explains. "I have hopes for BDS, which is the only significant thing now happening in the field. From that point of view, political exile like this can have a meaningful role."
Feeling of failure
Open gallery view
Political scientist Neve Gordon.Credit: Haim Bresheeth
Neve Gordon, 54, launched his political activity when he was 15, attending demonstrations held by Peace Now. He was wounded seriously during his military service as a combat soldier in the Paratroops. At the time of the first intifada (which began in December 1987), he served as the first executive director of Physicians for Human Rights Israel. Subsequently he was active in Ta'ayush, which pursues avenues of Jewish and Palestinian cooperation, and was a founder of the Jewish-Arab school in Be'er Sheva. During the second intifada he was part of the movement of refusal to serve in the Israel Defense Forces.
Although his political activity has been extensive, Gordon may be best known to the general Israeli public primarily for an opinion piece he published in The Los Angeles Times in 2009, when he was head of the department of politics and government at Ben-Gurion University in Be'er Sheva. In the essay, Gordon stated his support for the boycott movement and termed Israel an apartheid state. An international furor erupted, and the university's president at the time, Rivka Carmi, declared that "academics who feel that way about their country are invited to look for different professional and personal accommodation."
In the years that followed, Gordon's department at BGU became a target of systematic campaigns by right-wing organizations, notably Im Tirtzu, which demanded its closure because of the political views of a number of its faculty members. In 2012, Education Minister Gideon Sa'ar (Likud) called for Gordon's dismissal. At the end of that year, the Council for Higher Education recommended that the university consider shutting down the Gordon's department if certain reforms weren't undertaken, but its decision was ultimately revoked a few months later after a few changes were introduced.
In those tumultuous years, the professor says, he received a number of threats on his life. Three and a half years ago, he and his partner, Catherine Rottenberg, who was head of the university's gender studies program, together with their two sons, moved to London after both received European Union research fellowships. Gordon is now a professor of international law and human rights at Queen Mary University of London.
It wasn't the threats on his life that prompted him to leave, Gordon says, nor the struggle against the higher education establishment. In the end, what tipped the scales was concern for the future of their children. "I don't see a political horizon, and I have two sons, with all that's entailed in raising sons in Israel."
And you also landed an excellent job in London.
"True, but my job in Israel was better by a long shot. I really liked the Ben-Gurion department, I liked the students and also the faculty. I felt I had a community, and it was very hard to give that up. Even when we got to London, we didn't plan to stay. If we'd been a young couple without children, I'm not sure we would have stayed." Gordon adds, "It's not the easiest thing, to get up and leave at the age of 50-something. There's a feeling of personal failure and the failure of a [political] camp."
Was there a particular moment when the impossibility of remaining in Israel became clear?
"There was no one moment. Over the years we experienced growing extremism. It reached the point where we felt uncomfortable taking our children to demonstrations, because of the violence. The day-to-day racism is creating a place where I don't feel I belong."
The final blow, says Gordon, came when he began to feel it was no longer possible to speak out freely against the racist situation he witnessed. "The dialogue within Israel, which used to be open and which I took pride in, changed. Things that people like me espouse – support for the boycott movement, or terming Israel an apartheid state – became illegitimate," he says. "And then you are already not only outside the consensus, but outside the true public discussion. You become a curiosity. And then you say, 'What do I need this for?'"
Open gallery view
A 2004 demonstration by members of the Ta'ayush anti-occupation movement. The word that recurs constantly when talking to activists who opted to leave Israel is "despair." Credit: Olivier Fitoussi
Did the country change, or did you change?
"To be fair, the change is undoubtedly both in me and in the country. I also underwent a certain process. What I understood was that the solution cannot be contained in Zionism."
Haim Yacobi, Gordon's colleague at BGU, and subsequently head of its politics and government department, also left Israel. One of the founders of Bimkom, which deals with issues of equality in spatial planning and housing in Israel, Yacobi, an architect by training who is today 55 years old, moved to England three years ago with his partner and their three children, when he received a professorship at University College London. Like Gordon, he says that he did not leave because of political harassment: "If you look at the political situation in Israel squarely, on top of the colonial project in the West Bank and Israel's becoming an apartheid state, then the question that arises is what I want for myself and for my children."
He adds, "For people like me – whose work is critical and political, and who were also involved as activists – the politics of hope or of despair is of very weighty significance," he says. "To emigrate at my age and status is to say: I am in despair, I see no hope. That stems from my political analysis, based on how I view as a just state and society. It's not a decision that's made overnight. We didn't leave Israel because of the price of cottage cheese. We were exactly at the stage in which good bourgeois folks start to see the fruits of their labors, and I feel that I was very successful in what I did in Israel. It's very frightening to emigrate at a late age and to reinvent yourself."
The final blow, says Gordon, came when he began to feel it was no longer possible to speak out freely against the racist situation he witnessed.
Yacobi notes that many of his colleagues in Israel, even among the radical left, viewed his leaving as a betrayal. That reaction came as a surprise, but didn't make him change his mind. "The motivation to establish Bimkom was my belief that change was possible. I am less naive now," he says, adding that the political violence in Israel led him to realize that getting out was the only option for him.
Although Yacobi says he felt wanted in Israeli academia, he agrees that academic freedom in the country has been downgraded. "I think that very problematic forces, politically, have entered and have effectively become the police of the academic world," he says.
Bar-Ilan to Brown
Indeed, one of the disturbing things that emerged from the conversations with academics now living and working abroad is the decisive contribution of Israeli institutions of higher education in forcing out scholars who espouse a radical-left political outlook. The process was not always a blatant one, and even when it was, some of the interviewees adamantly refused to talk about what they underwent, for fear their former universities would react by trying to damage their professional reputations.
A clear-cut case, which was reported widely, was the refusal of Bar-Ilan University, in early 2011, to grant tenure and promotion to Ariella Azoulay, who had been teaching at the institution for 11 years. Dr. Azoulay, 58, a scholar of visual culture, curator, documentary filmmaker and one of Israel's most influential interdisciplinary thinkers, was hired by Bar-Ilan five years after the assassination of Yitzhak Rabin, when the university had an image problem. This was an act with a pluralistic aroma: to employ a lecturer with well-known leftist views at a university with a religious, right-wing orientation where the prime minister's assassin had been a student. A decade later, deep into the Netanyahu era, when right-wing organizations were compiling blacklists of scholars who criticized Israel, Azoulay's radical approach apparently sat less well with the university's directors.
To the broad protest by senior academics who expressed concern that Azoulay was a victim of political persecution, Bar-Ilan University responded that its considerations had been strictly professional. Still, her achievements were enough for her to get a job offer from Brown University in Providence, Rhode Island – an Ivy League university with a reputation as one of the world's finest institutions of higher learning.
A year and a half after she was denied tenure, Azoulay left the country together with her partner, Adi Ophir, a philosophy scholar and lecturer at Tel Aviv University, and a leading figure in the Israeli left. Prof. Ophir was 61 at the time; Azoulay was 51. The offer she received from Brown included a teaching position for him as well. For the past seven years, the two have been living in Providence, teaching, conducting research and writing books that enjoy impressive international success.
Ophir is leery of the term "political exiles." "Decisions of this kind are a combination of many things," he says in a Zoom conversation from Rhode Island. "The trauma of [Azoulay's] ejection from Bar-Ilan was an important part of it. Before that we had never looked for job opportunities abroad. Only when it became clear that they were going to throw her out for political reasons. And also the way the dismissal was received by academic colleagues – there was a respectable letter of support, but that was all. Other universities did not volunteer to hire her.
"But still, if she hadn't received that incredible job offer [at Brown], it's possible that we would not have had the determination or the strength to undertake such a dramatic move. The more significant political fact is that since we got here we haven't considered returning. The moment a full life became possible in a different place, the political and moral compromises that life in Israel entails became intolerable."
Is what happened to Azoulay typical of what's going on in Israeli universities and colleges today?
Ophir: "A rift opened at the start of the second intifada [in 2000]. We saw ourselves become increasingly anathematized. I was never persecuted at Tel Aviv University, but there's this constant feeling of something growing all around, a kind of encrustation and it signifies: These are the boundaries, you can't cross them, those ideas can't be voiced now, you can't deal with those things. Because for anyone who does deal with them, it's not clear whether his doctorate will be approved, or whether his article will be accepted, or whether his students will receive scholarships. In my case, at least, everything was very minor, but there was a growing feeling that we were simply no longer wanted in this place."
From afar, he continues, "I started to see things I didn't see from there. In Israel, I had many reservations about BDS. I thought about it from the viewpoint of my activity in academia, and I kept trying to tread between the raindrops, as it were: to recognize the legitimacy of the boycott movement without accepting its sweeping formulation. But I came to understand that what I was trying to do was protect myself and my space in the academic world."
Ophir wasn't always in that zone of consciousness. He grew up in a right-wing Revisionist home before becoming a devoted member of the socialist Zionist youth movement Hamahanot Ha'olim. In 1987, he cofounded the 21st Year together with Hannan Hever, who became a professor of Hebrew literature at the Hebrew University of Jerusalem and is now living in the United States. Theirs was a protest movement that called for refusal to serve in the territories and for the boycott of products made in the settlements.
"Hannan and I spoke at the time about the refusal to serve in the army in terms of self-fulfillment," he relates. "We thought that personal commitment to the State of Israel was to be expressed in a refusal to serve in the territories. I was totally a Zionist. It took me more time to understand what it means to be a Zionist."
Ophir does not deny that the country he lives in, the United States, is responsible for horrific wrongs. "In that sense, the United States is a terrible place, and since Trump's election it has become a lot more terrible," he says. "But when you oppose the regime in the United States, you are not alone. You are part of a large mass, active and creative. I can talk about it with students with absolute freedom. In my last years in Israel I felt that when I talked politics at the university, I was looked at like a UFO."
Philosopher Adi Ophir.
Do you also feel less alone in regard to your views about Israel?
"For the majority of my colleagues, Israel is a lost case. And most of the time, I am with them. A political exile is someone whose life remained in the place he left, and whose life in the new place is stamped in that context. I don't feel that way. I feel a great deal of pain together with a deep sense of pointlessness. Occasionally I still do something on campus, small things. That is my 'reserve duty.' But the center of my attention and interest is no longer there. The whole world is going from bad to worse, possibly toward its end. The Zionist colonial project is a tiny blip within it."
He continues, "It was a long process of separation. My mother died after many years of dementia. The parting from her lasted 15 years. The parting from Israel somewhat resembles that. Israel is something that is becoming alien and remote. In large measure I replaced my interest in political Israel with a growing interest in Jewish thought and history. I found myself a small patch that replaces the house in Tel Aviv. I'm enjoying being a Diaspora Jew."
Were there people who felt you were abandoning ship?
'A political exile is someone whose life remained in the place he left, and whose life in the new place is stamped in that context. I don't feel that way.'
Adi Ophir
"Yes – a good many, I think. Some said so openly. I thought they should be leaving, too. But that's easy to say: Not everyone gets a golden parachute for relocating. Obviously there is an egoistical element in what we did."
Are there things you miss about Israel?
"Hummus?" Ophir laughs. "Just kidding. I miss my children and my grandchildren. Very much. Sometimes I miss Tel Aviv. Sometimes I miss traveling around the country – going to the desert in winter. But there is hardly a place that I would walk across today and not feel that I was walking on someone else's land."
Ariella Azoulay declined to be interviewed, but sent a written statement: "I don't trust the press and I don't want to be represented by it; I support the boycott and have no interest in being interviewed for a Zionist newspaper. What I have to say about the fact that I was born to be an 'Israeli' as a form of control by the state over the body and mind of its subjects and citizens, and about my refusal to identify myself in the 'Israeli' category, I wrote in the introduction to my new book and I have nothing to add to that.
"And in addition, emigration out of a feeling of the impossibility of living in the place where you were born, because you serve to keep out those who were expelled from it, is painful, and I have no interest in sharing that pain with a Zionist audience that denies the pain and the loss that the State of Israel inflicted and is continuing to inflict, above all on its Palestinian inhabitants, and in a different way on its Jewish citizens." (Azoulay's most recent book is "Potential History: Unlearning Imperialism," published last year.)
Once is enough
Hagar Kotef, 43, found herself in an even more disturbing situation with regard to an Israeli university. Dr. Kotef, who was active in Machsom Watch and other left-wing movements, completed her doctoral studies in philosophy at Tel Aviv University and at the University of California, Berkeley. In 2012, she had an opportunity to come back to Israel as part of a plan to integrate returning academics. She was offered a teaching job in a prestigious program at one of the country's universities.
On the evening before her contract was approved, a right-wing NGO launched a campaign against her employment by the university. As a result, the rector refused to sign the contract, and the university put forward new conditions for the appointment, notably a demand that she sign a commitment relating to her political activity: Kotef was required to undertake not to attend demonstrations, not to sign petitions and not to speak publicly – or in the classroom – about any subject not related to her academic research.
It was the summer of 2014. When Operation Protective Edge broke out, in the Gaza Strip, Kotef signed an internet petition calling for Israel to negotiate with Hamas. Minutes later, she received a phone call from the university informing her that her employment was terminated. Kotef took the case to the Labor Court and was reinstated. "I started to work, but my job contract never arrived."
Kotef and her partner, a physicist and brain scientist, started to look for jobs in England. "It was clear that staying there [at the university] wasn't an option, and also that I wouldn't find a job anywhere else in Israel," she says.
Kotef later found employment as a senior lecturer in politics and political theory in the University of London's School of Oriental and African Studies. After teaching a semester there, she and her family left Israel permanently: "The combination of what happened in the university, the war, the violence in the streets, the fear to speak out, the racism and the hatred simply broke me."
Open gallery view
A 2014 protest in Tel Aviv against the war in Gaza. The signs say "A demonstration of hope" and "Jews and Arabs refuse to be enemies."Credit: Tomer Appelbaum
Even today, six years later, Kotef is still clearly shaken by the memories of that period. "Exile is too highly charged a concept: I don't categorize myself as a political exile, because all in all we left for a good job and a good place. But at the same time, we did not leave by choice and it wasn't a relocation." Kotef admits frankly that she did not find a way to continue her political activity in London.
"I'm not capable of being an activist [regarding Israel or other issues] here," she adds. "A few years ago, my partner scolded me for going to a demonstration: 'We've already been expelled from one country because of you, we don't want to be expelled from another.'"
Do you feel guilty about leaving?
Kotef: "No. I lost hope that it's possible to change things from within, so I don't feel I could be doing something if I were [in Israel]. If anything, I feel guilty toward my family, toward my parents, who were separated from their granddaughters, and toward my daughters, whom I moved to this place. Sometimes I look and say it's lucky we're not in Israel; and sometimes there is a feeling of loss. London is a cosmopolitan city, but there is still a hatred of minorities here, which Brexit exposed intensely, and we will always be strangers here.
"But I prefer to live and raise children in a place where my foreignness sometimes generates antagonism, rather than in a place where I am part of the side that is racist toward the other. There are moments when I ask myself what we have done, but I don't feel that it was really our choice."
Open gallery view
Yael Lerer.Credit: Shlomi Elkabetz
Dangerous place
"I did not have a golden parachute of work in academia like some others had," says Yael Lerer, 53, a translator and editor who spearheaded attempts to draw Israelis and Palestinians closer together from a civic and cultural point of view. Lerer, who moved to Paris in 2008, was a central activist in the Equality Alliance, an Arab-Jewish political movement out of which emerged Balad (acronym for National Democratic Alliance), later serving as the party's spokesperson, parliamentary assistant to MK Azmi Bishara and as Balad's first election campaign manager. She founded Andalus Publishing in 2001.
Although Lerer has lived in Paris for more than a decade, she says she feels she never left Israel. "I come and go. I haven't sliced myself off from Israel. It's just that my day-to-day life has become more pleasant. My French friends complain about racism in that country, but we are talking a whole different scale from Israel."
' I prefer to live and raise children in a place where my foreignness sometimes generates antagonism, rather than in a place where I am part of the side that is racist toward the other.'
Hagar Kotef
The political persecution she experienced in Israel sometimes also makes it difficult for her to find work in France; to make ends meet she has to supplement her earnings from translation and editing by working in real estate ("which I really hate"). "There are projects that interest me but that they don't let me do, because when I'm googled in France the first thing that appears is that I am one of those Israelis who forged an alliance with the terrorists," she says. "There was incitement to murder me and I was slandered. I was offered a job in television, but someone vetoed it, because they didn't want to get in trouble with the Jewish community. Research institutes that approached me also backed off at the last minute for the same reason. So I can work mainly in things where I am not up-front [about who I am]."
In 2013, Lerer returned to Israel for a time and was a Knesset candidate on behalf of Balad, in the 12th (and unrealistic) place on its list. While taking part in a panel discussion ahead of the election at Netanya Academic College, she was the target of a violent attack by rightists. The other panel participants did not come to her defense, she says.
"It was almost a lynching," she recalls. "It's a lucky thing there were security guards. I'd always thought that even if I received hate messages and threats of murder, it would only be on the web, but that in real life no one would do anything really bad to me. Suddenly I understood that I could no longer count on that. I understood that Israel had become a dangerous place for me."
Open gallery view
Saar Sakali and Rozeen Bisharat.Credit:
Best time to emigrate
Rozeen Bisharat and Saar Székely, who are life partners, despaired of Israel at a younger age than the other interviewees, but even so, they felt they had to leave fast. "The best point to emigrate is in your early twenties," says Székely. "But I was already 33 and Rozeen was 32, and we had the feeling that in another minute it would be too late."
Székely, who is Jewish, and Bisharat, who is Palestinian, were among the owners of the Anna Loulou Bar in Jaffa, and were political activists in different ways. Bisharat was involved in the student organization of Hadash, and during the social justice protests of the summer of 2011, erected "Tent 48" on Rothschild Boulevard in Tel Aviv, in an effort to simultaneously raise awareness of the Nakba. Székely was an activist via political performance art. They left Israel two-and-a-half years ago.
What prompted their departure, they say, was the question of whether it was possible to effect change. "When you try to exert influence or to change public opinion, it depends on whether you believe that it's still possible to change things," Székely says. "It's a question of optimism – and that's what we ran out of in the period before this."
Hope waned for Bisharat after the protest movement ended and was severely battered in the Gaza war of 2014.
"For years I thought it was possible to generate change in Israeli society, to bring people content they hadn't been exposed to," she says. "But having a different opinion started to be considered treason. Automatically, if you don't agree with the state's way, you are a traitor. And I, as a Palestinian, was told: 'You don't like it? Go to Gaza.' There's no one to hold a discussion with. Not even in Tel Aviv. Part of my leaving was a desire to liberate myself from my role as 'a Palestinian in Tel Aviv.' In Berlin I am from the Middle East, or part of the Arab world. I am not a gimmick the way I was in Tel Aviv, but one of hundreds of thousands of other foreigners. Berlin gives me access to the Arab world, I can meet Syrians, Egyptians and Lebanese, I can be Middle Eastern. Tel Aviv today is far more white and European than Berlin. My real cultural exile was in Israel."
=====================================================================================
https://www.redressonline.com/2020/06/israel-loses-its-best-as-chauvinism-and-religious-extremism-takes-over-society/
Israel loses its best as chauvinism and religious extremism take over society
Emigration
In 2012 the Israeli newspaper Haaretz reported on a poll suggesting that at least one-third of Israelis would consider emigrating abroad if the opportunity presented itself. This was not to be temporary phenomenon. An updated 2018 Newsweek article stated that "Israel celebrates its 70th birthday in May with the opening of the US Embassy in Jerusalem. Yet the country is grappling with an existential crisis… Spurred by the high cost of living, low salaries, and political and demographic trends, Israelis are leaving the country in droves." Given the fact that "Israel has one of the highest poverty rates and levels of income inequality in the Western world," you can see why the notion that Israel is "absolutely essential… to the security of Jews around the world" is up for debate among Jews themselves.
While economics is certainly playing a role in this emigration, it is not the only factor. There is also a question of conscience. Particularly noticeable among those leaving are numbers of intellectuals and academics. And among this group are some of Israel's most ethical citizens. Here we can again turn to Haaretz. On 23 May 2020 the newspaper published a series of interviews with some of the activists and scholars despairing of enlightened change and therefore choosing to leave the country. Here are a few examples:
— "Ariella Azoulay, an internationally recognised curator and art theoretician and her partner, philosopher Adi Ophir, who was among the founders of the 21st Year, an anti-occupation organization."
— "Anat Biletzki, a former chairwoman of B'Tselem – the Israeli Information Centre for Human Rights in the Occupied Territories."
— "Dana Golan, former executive director of the anti-occupation group Breaking the Silence."
— "Yonatan Shapira… who initiated the 2003 letter
of the pilots who refused to participate in attacks in the occupied territories."
— "Neve Gordon, political scientist, who was director of Physicians for Human Rights and active in the Ta'ayush Arab Jewish Partnership."
And the list goes on for quite a while. According to the article, "the word that recurs time and again when one speaks with these individuals is 'despair.' Percolating despair, continuing for years." That is, despair among those people trying to build a society where Israeli Jews and Palestinians could live in harmony as equals. It has gotten to the point where such a humanitarian stance can result in being "forced out of their jobs because of their political beliefs and activities" and/or the realisation that "they could no longer express their views in Israel without fear." Those with children expressed concerns about raising them within the political and social climate that now dominates Israel.
Empowered fanaticism
It is to be expected that each of these expatriates has mixed feelings about leaving Israel. After all, they leave not only a suffocating political and social climate, but also their community and a Hebrew language that many find personally enriching. Unfortunately, empowered fanaticism puts at risk all that is culturally and socially positive.
And empowered fanaticism is what you get when nationalism merges with an exclusive tribalism characterised by racism and religious zealotry. Eitan Bronstein, an Israeli activist now living abroad, gives a sense of this when he observes that "There is something quite insane in Israel." To grasp it fully, an Israeli must learn to see it from the outside – "to look at it from a distance is at least a little saner". Neve Gordon tells us just how much distance is required to fundamentally change things: "What I understood was that the solution cannot be contained in Zionism."
Gordon is correct. The source of Israel's fate, as well as its behaviour towards the Palestinians, lies in its founding ideology. Here is an explanatory sequence:
— Zionism, the ideology underlying the Jewish state, originated in the 19th century as a response to the persecution of Jews, particularly in eastern Europe and Russia.
— The 19th century was a prime period of nationalism and the nation-state. It was a logical decision of the early Zionists that the solution to Ashkenazi (northern European) Jewish persecution lay with the founding of their own state. And so began the melding of Judaism and Zionism.
— However, in the 19th century the nation-state was also tied to Western chauvinism and imperialism. Peoples outside of Europe and North America were seen as inferiors.
— The founding Zionists, mostly Poles, Russians and Germans, were, if you will, just as infected with this chauvinism as their non-Jewish European counterparts. They took the superiority of European culture over that of non-Europeans for granted and therefore believed the Palestinians had few rights in the face of European imperial expansion. In this way the Zionist Jews identified with and absorbed the role of the aggressor. It was an ironic stance because that same European culture was the source of Jewish persecution.
— Come the early 20th century, the Zionists made an alliance with the British government, which would soon conquer Palestine. The British promised the Zionists a "Jewish national home" there. This allowed the Zionists to begin bringing ever larger numbers of European Jews into an Arab land.
— The inevitable Palestinian resistance to this Zionist invasion was used to further justify the racism most Israeli Jews feel toward those they have dispossessed.
"Good riddance"
This interpretation of events probably raises a negative emotional response in almost all Israeli Jews. This is not because it is inaccurate, but because they have all been raised within a Zionist culture that teaches them that Palestine is rightfully Jewish and now, as a consequence, only Jews can be full citizens of Israel. Somehow that indoctrination ultimately failed to overcome the basic humaneness of those exiles described above. It is their lack of tribal solidarity as defined and demanded by Zionist ideology that renders them renegades in the eyes of many doctrinaire Israelis. A sense of this is given in some of the reader comments that followed the Haaretz interviews. My responses are in brackets.
— They are all "radical leftists" or of the "far left." [This assignment of political position is really ad hoc. There is nothing inherently "left" or "radical" about what in truth is a recognition that Israeli Jews and Palestinian Arabs share a common humanity, and a common fate.]
— These radicals fail to appreciate that Israel is a democracy and their political faction lost. [When it comes to human rights and human decency, a liberal democracy protects the rights of its minorities. In a society where minorities have shrinking rights, or no rights at all, democracy is only a facade.]
— The exiles are themselves bigots who fail to respect the points of view of true Zionists. [This is just sophistry. To stand against bigotry cannot make one a bigot. If we have learned anything from history, it is that not all points of view are equal.]
— Those who chose exile think they are principled, but then so did Hitler. [Equating those who show compassion towards the Palestinians with the Nazis is a sure sign that Zionism has corrupted the minds of its adherents.]
— Israel is better off without these people: "May they meet their destiny among Israel bashers in their new utopias." [With the Zionists, it is always "us" against the world.]
Conclusion
The increasing number of empathetic Israelis – peace activists and those who just seek basic human rights for both Palestinians and Israeli Jews – who are being pushed to choose exile is a tragic and telling sign. They are literally being chased out of their own country, much as are the Palestinians, by those Jewish citizens committed to the reactionary, tribal doctrine of Zionism. The state has now been given over to doctrinaire chauvinists and religious extremists. Under such circumstances, is it any wonder that, as one of the few enlightened commenters stated, "Evil is driving out good" and "This is the price that Israelis of conscience are paying for [their opposition to] the steadfast persistence and growth of bigotry in Israel today."
==============================================================
Ariella Aïsha Azoulay

BOOK REVIEW: Ariella Aïsha Azoulay, 'Potential History: Unlearning Imperialism'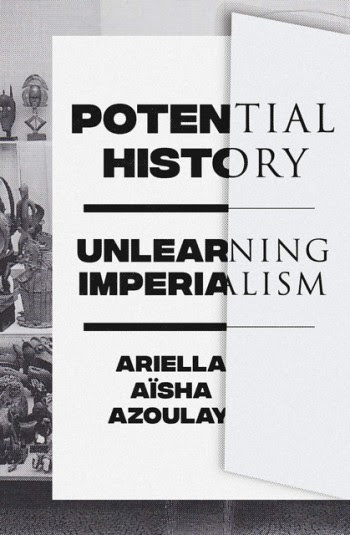 ---
Verso Books, New York and London, 2019
656pp, ISBN 978-1788735711
---
Ariella Aïsha Azoulay's Potential History: Unlearning Imperialism is almost double the size of my copy of Edward Said's Orientalism and about half the size, in turn, of Karl Marx's first volume of Capital. There are many nuanced differences across such a crudely mapped zone but the quality that all three share is a burning desire to change, to radically redistribute the world as it is, or appears to be. Azoulay's six-hundred-page-long Potential History offers a liveable commonworld through exacting reparations and ends with a very short but insistent affirmation: 'The potential is there'. [1]
In October 2018, I spoke about the totalising of the visual and its integral violence at a symposium entitled 'The Violence of Images', hosted by Camera Austria in Graz, to advocate for the non-violent image as a site and practice of resistance. Jainism supplied me with a rigorous clarifying yardstick for non-violence, extending its care to the eggs of fleas that might lurk in a droplet of water falling from a leaf or blade during monsoon season. This is the ethos behind the exceptional fixity of the Jains' Rains Retreat, amongst other observances with regard to 'tiny creatures'. [2] It proved easy to invoke visual potentialities with my coming-in-to-land images of nocturnal Dubai in which connective pathways between labour camps and western cultural institutions left by enslaved migrant workers are obscured in blacked-out zones. [3] It was also not difficult to distinguish almost-but-not-quite non-violence in a range of formalist images by Jean Baudrillard, Wolfgang Tillmans and Walid Raad – all significant in other ways.
To engage non-violence within-the-droplet, as it were, I resorted to discrete images that performed one or more constitutive quality of non-violence, love, gift or inclusive care. They included a self-portrait that architect Balkrishna Doshi left on my digital camera after months of growing intimacy in 2002–2003, risking that his undeclared 'gift' might not be noticed or simply deleted. For 'love' I used a recently discovered image of my late mother as a girl of twelve, offering a unique and astonishingly elemental smile to her grandfather during a creatively inspiring interlude in a less-than-happy childhood. For 'inclusion' I used an image of high-Modernist formalism: a blank square in the writing of Maria Gabriella Llansol, [4] text only recently translated to reveal it to be more of a generous footnote of explicatory care than poetic 'hatred'.
Other speakers, questions and conversations at the symposium gradually made ubiquitous reference to Azoulay's influential work of distinguishing the event of photography from the photographic image, in her The Civil Contract of Photography (2008) and Civil Imagination: A Political Ontology of Photography (2012). Tom Holert, whose elegant talk grew into an excellent essay entitled 'Epistemic Violence and the Careful Photograph' for e-flux journal, wrote that 'the "situation" in which a photograph is taken is replete with presences and subjectivities, visible and invisible' in infinite series. [5] 'Ariella Azoulay', he added, 'famously coined the term "the civil contract of photography," a fundamental relationality in which the "civil imagination" is to be recuperated from the ruins of a citizenship bound fatally to the nation-state.' [6] In the book named after the term, Azoulay described the 'unique form of temporality' engendered by this event, [7] anticipating the broader project she has been developing over the last decade here in Potential History. I will return to my own humble care for worlds glimpsed in non-violent images that took root in other times and places, but in my view Potential History represents Azoulay's major theoretical landmark.
'I found myself changing scales', Azoulay writes in the introduction, following her tenured move to Brown University in the United States in 2013 after being stymied at Bar Ilan University in Tel Aviv for her rigorous 'commitment to the return of Palestine' (p xv). The change in scales 'helped me to further elaborate the political ontology of photography… and to account for it as a central part of imperial technology'. That is, her thinking about the action of the shutter in photography, in which a world is radically delimited but remains present and resistant in various ways nevertheless, expanded to the imperial realm more promiscuously. Here, she is eager to clarify that a developing imperial infrastructure post-1492 – that 'marker of reversibility' (p 22) – generated technologies that included the camera and its mechanical shutter in the early nineteenth century to further consolidate it. In fact, 'the camera made the potential for freedom visible', she concludes (p 581). Potential History keeps these shutters open, stimulating our 'as-yet-incomplete project of freedom' – in Saidiya Hartman's phrase – to actualise. [8]
While the civil contract of photography recovered the worlds, contexts and event of photography as such beyond the apparently finite photograph itself, Azoulay's new scales require the unlearning of imperialism itself – along with all the 'political terms, structures, institutions, concepts and laws commonly identified as modern' (p 24). It requires the recovery of imperialism as event, and a civilising recognition and recovery of an existing homely world before the differential epistemes, modalities and hierarchies of imperialism's regime took its place with such staggering violence. I will come to more precise definitions, but it is crucial to say that this is not a redemptive return to an original scene, but a restless and concrete extension of the 'messianic time' that remains of Walter Benjamin via Giorgio Agamben. [9] Exactly how and why will require explication.
Potential History is authored, you may have noticed, by someone else too: Ariella Aïsha Azoulay. The Aïsha – 'Aisha, Ai-sha, Aieeee-shaaaa' (p 14) – marks and embodies this change of scale, a significant gesture with which I have an uncanny association. What's in a name, you might ask? During the writing of this book, Azoulay discovered that Aïsha was her paternal grandmother's name, the worldliness of which her father denied in shifting from Algeria to Palestine, especially after the state of Israel took its place in 1948. Her mother's ancestors were expelled from Spain in 1492, settling latterly in Bulgaria, while her mother 'had been born in Palestine', becoming 'an "Israeli"' at nineteen. 'My mother did not talk with me in her mother tongue, nor did my father in his', both adopting the lingua franca of the 'last' imperialist state. In this lies Azoulay's need to begin her book with a 'refusal to be an "Israeli"', and remark that 'there is no community to which I truly belong' (p xiii).
Azoulay's father erased associations with the 'Arabness' of his Algerian ancestors (p 13), thus betraying them in a land cleansed of the majority of its people. Azoulay's lack of community relates to serial erasures and expulsions of Jewish communities over centuries, and yet I have my own 'Aïsha' who inhabits the expanded scale of this book sufficiently to mention, and anyway stand with. My paternal great-grandfather denied his great-grandmother and her 'Afghan' Muslim identity from eighteenth-century Bengal. Like Azoulay's father, he understood the dangers of such ancestry in his own world on the fringes of the imperial court in Simla where he was a surgeon in one of the hospitals. He took his secret to an Old Delhi grave in 1941, but I stumbled upon the lacunae in an inherited multi-generational map in my late thirties and pursued it eagerly. The queering potentialities of the 'name', which 'disappeared' in the Persian records of an Islamic marriage, are related if not identical in resonance to 'Aïsha'. However, Azoulay and I are both 'citizen-perpetrators' of a violence she demands we all take responsibility to 'unlearn' here, by 'reclaiming a non differential, worldly form of cocitizenship situated in a shared world in need of repair' (p 51).
Azoulay's style and the theoretically speculative scales engaged here generate much iterativeness, even in the book's introduction, itself fifty-seven pages in length. Early on in this tautly rendered introductory section, she offers this link:
Thinking about imperial violence in terms of a camera shutter means grasping its particular brevity and the spectrum of its rapidity. It means understanding how this brief operation can transform an individual rooted in her life-world into a refugee, a looted object into a work of art, a whole shared world into a thing of the past, and the past itself into a separate time zone, a tense that lies apart from both present and future. (p 6)
Thus, 'Unlearning imperialism aims at unlearning its origin, found in the repetitive moments of the operation of imperial shutters' (p 7) and a 'violence that presumes people and worlds as raw materials, as always already imperial resources' (p 8). It will also 'involve different types of "de-", such as decompressing and decoding; "re-", such as reversing and rewinding; and "un-", such as unlearning and undoing' (p 10), aimed in part at 'the restitution of the right to participate differently' (p 9).
Potential History proceeds over six further sections to perform these and other things, shifting between overlooked particulars to more familiar generalities:
Unlearning becomes a process of disengaging from the unquestioning use of political concepts – institutions such as citizen, archive, art, sovereignty, and human rights, as well as categories like the new and the neutral, all of which fuel the intrinsic imperial drive to 'progress', which conditions the way world history is organised, archived, articulated and represented. (p 11)
Azoulay opposes commonworld traditions to imperial revolutions; she sides with the 'undocumented', 'infiltrator' and 'illegals' unhomed by imperial regimes to make way for the citizen. Azoulay is interested in modalities and detail; her book is enriched with concrete examples from a very broad temporal and physical spectrum in which her surest references remain Palestine and those destroyed, dispossessed and displaced from it. 'Palestine' is paradigmatic because it remains an event of ongoing resistance to a crime that must be undone as part of broader reparations. It is, or, as she writes, can still be 'a source of hope, hope for the entire world' (p 268).
Let me break this down a little, firstly through Azoulay's recapture of hundreds of agreements drawn up in post-World War II Palestine between Jewish and Palestinian communities in neighbouring villages, including Deir Yassin, [10] to 'protect their communities from outside militants' (p 440) or 'Jewish militias' (p xv). She calls these a 'model of sovereignty that extends care to all' (p 441). Secondly, the work of unlearning the archive includes unlearning the document, as well as 'unlearning photography as … an attempt to replace alleged absences controlled by one party to the event of photography, by presences, whose existence can be proclaimed by the photographed persons and spectators' (p 370). Azoulay returns to the International Committee of the Red Cross's photographic archives in Geneva and images that capture the expulsion and deportation of Palestinians from their home but which are labelled with the faux-neutrality of the phrase 'repatriation' (p 206). Azoulay was refused permission to exhibit these images with her own descriptions. She drew them instead, reproducing them in exhibitions and pamphlets, and again here in their optimal context. Drawing these images highlighted otherwise missed details, she writes, exhibiting a 'within the droplet' care for commonworlds. Thus I was mistaken in Graz; these redrawn photographs (including life before this book) [11] qualify as the best example of deliberately made non-violent images that I can think of.
Here I must further concretise the concretion, and engage a further un- within the unlearning, to focus on one of the radical applications of Azoulay's approach. This is her notion of an 'untaken photograph', which 'can take many forms: a verbal description, a testimony, a drawing or a photograph of a re-enactment of the unphotographed event' (p 370). She uses the notion of an untaken photograph in her chapter on archival imperialism to reject an axiomatic silence regarding 'the massive rape of German women by Allied soldiers at the end of WWII', as well as to foreground 'the inscription of the rape in the archive' (p 371) in a complex but radically refreshing argument. It is an argument she made in her essay 'The Natural History of Rape', published in Okwui Enwezor's catalogue for 'Postwar: Art Between the Pacific and the Atlantic, 1945–1965', that used more images but which is again optimised here. [12]
Untaken photographs of Berlin in April–June 1945 show the mass rape of women, as documented in women's diaries and the fact that 'at least 90,000 women sought medical aid after being raped in Berlin alone' (p 240). Exact figures are unknown; Azoulay writes that 'a few hundred thousand to 2 million German women were raped' (p 236), including 'at least 190,000 women raped by American, British and French soldiers' according to one research project (fn, p 255). Detailed contemporaneous testimony brings 'countless trophy photographs' [13] of ruins to mortifying life: 'In these perforated and porous dwellings, women lived with no windows, no doors, no water, no gas, no electricity, and very little food. The women moved from the upper floors to the basement and back, depending on the data they could gather on the behaviour of their rapists.'[14]
Azoulay concludes this chapter with radical clarity: 'Visual documents of violence perpetrated in the open … should be located within available images that are falsely declared not to be images of rape, even though they were taken in the same place and at the same time as the rapes' (p 246). Instancing one seemingly silent and mysterious trophy image of rubble-strewn courtyards with gaping architectural orifices, she concludes 'This is a photo of an arena of rape' (p 246). In this way Azoulay is not filling gaps in the archive, but redistributing it amongst other participants. It is a manoeuvre she repeats in the section on archives themselves: 'potential history reads records of destruction as proof of persistence and right to survive' (p 187), which is part of 'a different modality, that of reversal, rewinding, repairing, renewing, reacquiring, redistributing, readjusting, reallocating' (p 56).
Throughout Potential History, there are shifts in scale from the concrete instance to a half-millennium of imperialism, but the scope for a wholly different understanding of those centuries and their current settlement is thrilling in potential, which here means obscured presence. The imperialism that we must and are unlearning is the European, english-language, Atlantic worldview produced by the winners and wounders of our commonworld. The temporalities of this are crucial, and I don't only mean overlaps with theories of the Anthropocene, Capitalocene and variously nominated extractive regimes of carelessness. Nor is it a simple matter to use the word 'potential', but in this project and book Azoulay restores world-recovering efficacy to it. Imperialism violently delimited worlds of possibility in a series of 'unforgivable' crimes, while potential history recovers the post-extractive leavings – 'distanced, bracketed, forgotten, suppressed, ignored, overcome, and made irrelevant' (p 3) – resistances, realities and enduring commonalities.
So what does Azoulay mean by potential history? An eponymous chapter begins with ten assertions, which multiply through it: 'Potential history is not an attempt to tell the violence alone, but rather an onto-epistemic refusal to recognise as irreversible its outcome and the categories, statuses, and forms under which it materialises'; '… is a commitment to attend to the potentialities that the institutional forms of imperial violence – borders, nation states, museums, archives, and laws – try to make obsolete or turn into precious ruins', and 'allows Palestine to be and to have always been possible' (pp 286–287); '… strives to retrieve, reconstruct, and give an account of diverse worlds that persist'; '… requires inhabiting the position of a cocitizen, looking for and joining those who did not give up even when they were under threat' (p 289). Lastly, 'potential history is the transformation of violence into shared care for our common world' (p 57).
A host of applications riddle Potential History on multiple registers, even as they build towards a call for worldly reparations, along with very concrete trade-ins by the perpetrators of their/our/my privileges, powers of judgement and liberal identifications, in pursuit of what Azoulay calls 'worldly sovereignty' in place of 'imperial sovereignty'. Azoulay is not short of ideas and ways to do these things. In between each chapter are segments that begin with, for example, 'Imagine going on strike' (p 328), or just stop doing the same things, modelled on W E B Du Bois's ascription of a general strike to the mass withdrawal of slave labour at the beginning of the American Civil War. [15] After the chapter on worldly sovereignty, she writes: 'Imagine our mouths going on strike, refusing to speak the imperial language that reduces our cocitizens to the "refugee", the "undocumented"'. Researchers and academics should 'refuse to relate to (these political figures) as objects of study' (p 446). Elsewhere, for example, she untangles tradition from conservatism to argue for worldly caring: 'Tradition is the most persistent struggle against imperialism, sustained through intergenerational transmission and preservation of some worldly knowledge of being in the world' (p 321).
Examples of potential history in action include the Great March of Return in Gaza, which 'makes these claims present, ensures that they have not and can never be buried, even as many bodies are buried' (p 128). She instances Walid Raad's work in the archives of the Louvre in Paris on the three hundred objects loaned to the branch in Abu Dhabi, built under conditions of forced labour to refinance a declining imperial institution, [16] in which the objects became 'unruly' (p 154), morphing between epistemic regimes, foregrounding ontological instabilities. She applauds the work of Amin Husain and Nitasha Dhillon at the Brooklyn Museum, campaigning 'to reverse the conditions under which art and art objects are perceived as separate from the active life of communities. Decolonising museums is essential to rewinding the imperial condition.' (p 100) Further campaigns to delink visual arts benefactors and cultural institutions from direct association with arms manufacture and supply include Decolonise This Place's work to remove Warren Kanders from the Whitney Board (p 498).
Behind these actions lies the simplest of links between 'unlearning' and 'potential', how and what it applies to, especially with what is typically meant by talk of restitution. 'The initiative of restitution of objects held by French museums was described by Achille Mbembe as paternalist and legalist … The loss, insists Mbembe, is not of the objects but of the world of which these objects were the carriers' (p 141). Azoulay writes repeatedly about rights being inscribed in looted objects, not the shuttered human rights of imperial regimes, but rights 'put out of action with the destruction of the physical worlds in which they were effective; they are the rights of the dispossessed and their lost worlds, the rights validated not by state papers and documents but through objects, architecture, ceremonies, rituals, orders, genealogies, habits, skills and traditions' (p 452). It is meaningless to return a bowl or figurine without the 'politico-material world' destroyed to loot and reclassify it.
'Rights, then, imply claims to take action – to desist from perpetrating crimes, to give back what was taken, to acknowledge a plight, to compensate a damage, to equalise status, to change rules, and to enable the people involved, perpetrators and victims alike, to inscribe their rights in a shared world again' Azoulay writes (p 529). The most basic right of all, she says, is 'the right not to act against others; in its positive formulation: the right to act alongside and with one another. Accepting this right in its two forms as fundamental is necessary in order to imagine reparations' on the appropriate scale (p 566). This is what she refers to in the phrase 'worldly rights', which require a notion of cocitizenship to enact the radical scale of reparations now needed.
Reading Potential History in 2020 means running every theoretical exercise, acute deconstruction and proposed action through a hastening climactic crisis, almost to test for relevance as we are overtaken by its global consequences. Azoulay's analysis is entrained on the same worlds, and her prescriptions address those issues with remedies that apply both to the unforgivable crimes of imperialism; imagine what all its 'triumphs' would look like if the anglo-centric western world had not 'won' World War II, and the extinction horizon entrained by its extractive logic. We will all have to think like the earth or like a river to bring on the kinds of 'bliss' (p 566) that Azoulay's commonworld proffers. Of course, it existed and exists, but it is both only, as well as actually, potential.
Azoulay describes the 'tedious work' involved in ensuring that 'all monuments must fall', adding that 'Israel's state apparatus, to take one example, is a monument that must fall' (p 573). Meanwhile, pointing to the abject failure of 'international legal discourse' to deliver on its own declarations of human rights and UN resolutions, Azoulay points out that Palestinian 'rights are dormant in the trees, valleys, dishes, fields, seeds, objects, structures, ruins, norms and traditions that still subsist' (p 478). Our creaking, discredited zombie-regime gets splenetic at such ideas, while happily trading arms, building walls, mining borders and watching migrants drown in neighbouring waters.
Today we will survive only in a very differently experienced though immanent commonworld. This potential – in the active, optimistic, totemic sense – is brought to rigorous as well as animated life in Potential History. Azoulay has produced a unique handbook for the 2020s that details how, why, when and where to say no in the affirmative. Her greatest achievement is that, against the foreshortened horizons of a despoiling barbarism, she makes all our tomorrows thinkable.

[1] Ariella Aisha Azoulay, Potential History: Unlearning Imperialism, Verso, London, 2019, p 581
[2] Kalpa Sutra, Jain text about the lives of their twenty-four tirthankars: 'There are these eight classes of small things which a mendicant ought diligently to perceive, observe, and inspect, viz. living beings, mildew, seeds, sprouts, flowers, eggs, layers, and moisture', from a translation found here: http://www.sacred-texts.com/jai/sbe22/sbe2291.htm
[3] See Guy Mannes-Abbott, 'Utopian Dust Versus Perfumed Amplification: Object Lessons from Saadiyat Island and Gehry's Guggenheim, Abu Dhabi', in Future Imperfect: Contemporary Art Practices and Cultural Institutions in the Middle East, Anthony Downey, ed, Sternberg Press, Berlin, 2016, pp 292–308
[4] Maria Gabriella Llansol (1931–2008), Geography of Rebels, Audrey Young, trans, Deep Vellum, Houston, 2018
[5] Tom Holert, 'Epistemic Violence and the Careful Photograph', e-flux journal 96 January 2019
[6] Ibid
[7] Ariella Azoulay, The Civil Contract of Photography, Zone Books, New York, 2008, p 26
[8] Azoulay, Potential History, op cit, p 543; quote found in Saidiya Hartman, 'Venus in Two Acts', Small Axe: A Caribbean Journal of Criticism, vol 12, no 2, 2008, p 6
[9] As sketched here by Leland de la Durantaye, quoting Agamben on Benjamin: '"the sole possibility we have to truly grasp the present is to conceive of it as the end (das Ende). That was Benjamin's idea, and his messianism is to be understood above all after this fashion". For Agamben, Benjamin's messianism, like his own, is an attempt to grasp the potentialities of our present situation.' Leland de la Durantaye, Giorgio Agamben: A Critical Introduction, Stanford University Press, California, 2009, p 376. I am not entirely convinced that this construction of end times is free of regular messianism, or why it is useful to retain the paradigm.
[10] Deir Yassin was the site of a signal massacre on 9 April 1948, in which houses were blown up with people inside, while others were lined up and murdered in cold blood, as survivors have attested. In The Ethnic Cleansing of Palestine (Oneworld, Oxford, 2006) Ilan Pappe lets the fact that '30 babies' died speak for itself (p 90) and argues that this was one of the warnings that went out across Palestine to encourage people to flee coming massacres as the same Zionist militias went from village to village, 'cleansing' between 4 and 500 of them. 'The Deir Yassin massacre took place when around 120 fighters from the Zionist paramilitary groups Irgun and Lehi killed hundreds of Palestinian Arabs in Deir Yassin, a village of roughly 600 people near Jerusalem', states the 'neutral' Wikipedia https://en.m.wikipedia.org/wiki/Deir_Yassin_massacre
[11] See p xi; Azoulay acknowledges Jeff Khonsary and the longer pamphlet version of these images in Ariella Azoulay, Different Ways Not to Say Deportation, Filip Editions, Vancouver, 2012
[12] See Ariella Azoulay, 'The Natural History of Rape', in Okwui Enwezor, ed, Postwar, catalogue of the exhibition at Haus de Kunst, Munich, in 2016, Prestel, 2017
[13] Ibid, p 249
[14] Ibid
[15] See W E B Du Bois, Black Reconstruction in America: 1860–1880, Free Press, New York, 1992 [1935]
[16] See, for example, the book of the campaigning group Gulf Labour, The Gulf: High Culture, Hard Labour, Andrew Ross, ed, OR Books, New York, 2015 www.gulflabor.org
Guy Mannes-Abbott is the London-based author of In Ramallah, Running (Black Dog Publishing, London 2012), whose work often performs in visual art contexts. He once taught theory at the AA School of Architecture, London, and his cultural criticism has been widely published in multiple volumes and journals.